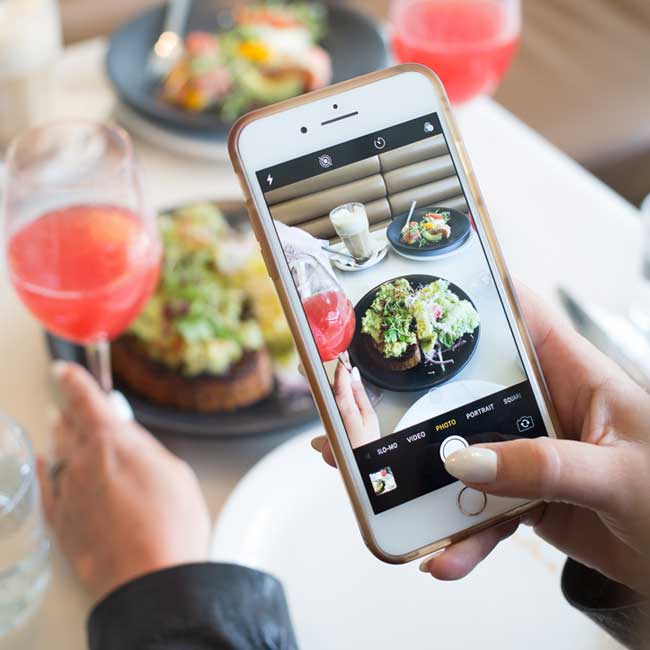 Create the perfect at-table experience
What new restuarants need to know about Instagram
March 16, 2017
What New Restaurants Need to Know About Instagram
By Kate Engineer
For a new restaurant getting set to open, once you have the business name and logo developed, your next step should be signing up for an Instagram account to secure your name and begin connecting to your community. Here are some common questions about Instagram answered so you can get started on your marketing approach.
Why Instagram?
Instagram is a free marketing tool that connects you directly to customers who have interests relating to your brand experience. Instagram is the number one photo sharing social platform, and the platform of choice for foodies and food influencers.
Let's face it; nothing is more stimulating than a mouth-watering food shot! Describing the dish you ate or the interior of a restaurant is never as impactful. The amazing camera technology in mobile phones has also allowed the everyday diner to snap high quality photos, which is another reason why Instagram has become the most popular social platform today.
The app's editing options and filters allow you to transform images, and by adding in popular #hashtags you can easily reach users with similar interests to increase the reach of your posts. By connecting your Instagram account to your Facebook Business Page, you will also have access to Instagram's new business analytics to see how your account and posts are performing.
When should I begin posting on Instagram?
There are many viewpoints regarding the best time to launch your social media marketing strategy; in my opinion, the sooner the better. From securing your site location, to furniture selection and recipe testing, your restaurant operation is a fascinating journey that people want to connect to. The earlier you share your experience and the restaurant's development with the community, the sooner you will be building buzz about your opening to create a following. Even if you aren't posting content daily, the more attention your brand is capturing in the digital space, the bigger the impact you can make on opening day.
How do I gain followers?
Follow and get followed. In the beginning you will need to search for Instagram users who have interests that relate to your brand and follow them. Once you have achieved a few hundred followers, shift your strategy to gaining organic followers through posts, content and hashtags. Sending personal direct messages through Instagram about your upcoming restaurant opening can also be effective in gaining followers.
DON'T BUY FOLLOWERS. The misconception about social media is that the more followers a brand has the better, which is why brands get suckered into purchasing followers to instantly reach thousands in a few a days. On the surface, this will look like your brand is super popular. But purchased followers don't engage in your content and won't dine at your restaurant.
The main purpose of social media is to ENGAGE and MOTIVATE your community to dine at your restaurant versus somewhere else, which is why an organic follower is much more valuable to your brand than a paid one.
How many times should I post per week?
The goal of posting is to tell a piece of the brand story that connects with your audience. So in the beginning, you are likely to not have as much content to share with followers as you will once your restaurant opens. The rule of thumb is: don't post something just to post anything. Aim for three to four posts per week in the developing months, and then increasing to one post per day as you near opening day. Instagram business analytics will share the peak times for posting, which is when your largest audience is using Instagram. Posting during these peak times will generate the most engagement.
What is a #hashtag and why is it important?
Hootesuite did a great job at defining the Instagram hashtag, so here it is:
An Instagram hashtag is a word or phrase comprised of letters, numbers, and/or emoji proceeded by what was once referred to as the pound symbol (#).

Instagram hashtags categorize content. Click on a hashtag and you'll be able to browse posts that have been tagged with it. Attach one to your own photo or video and it will be discoverable to anyone searching the hashtag. How likely it is to be seen by other users depends on how often the hashtag is used, how popular your post is (does it already have a lot of likes and comments?), and how strong your following is.
Hashtags allow users to search topics of interest and follow users based upon similar interests. So as a business in the hospitality industry trying to attract diners, hashtags relating to your restaurant type, location, menu offering, chef, and special events are effective in increasing your organic followers who are the most likely to dine at your establishment.
Here are a few top hashtags for the hospitality industry:
#restaurant
#food
#(day of the week)
#coffee
#wine
#eat
#instafood
#foodporn
#foodie
Like every step in developing your restaurant brand, it is best to spend some time researching how other restaurants are using Instagram to determine what will be most effective for your brand.